Special Maps – The Gesher Galicia Map Room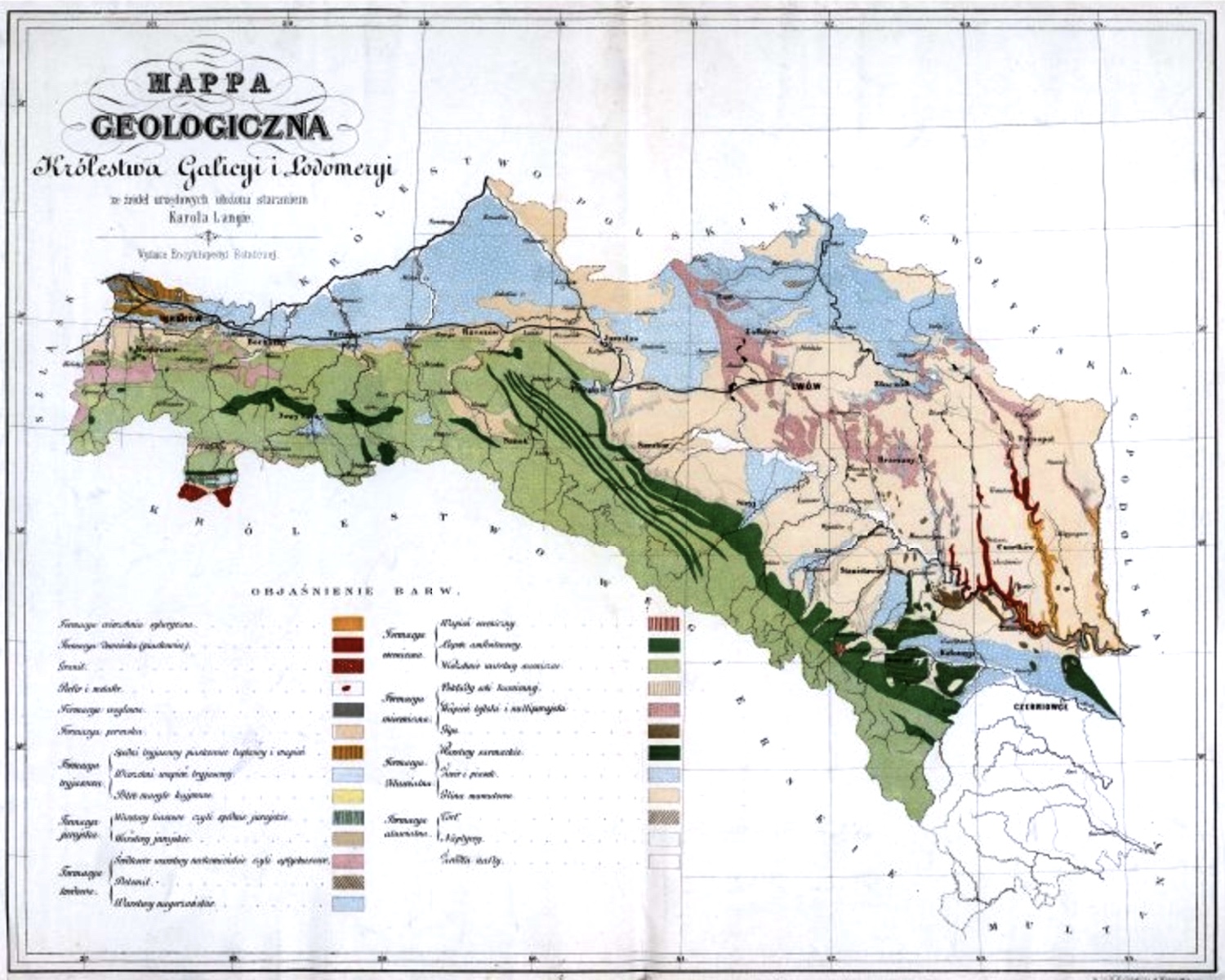 This section of the Gesher Galicia Map Room gathers and presents an array of unusual historical maps of Galicia, each of which studies and documents a perspective other than the more typical political, administrative, transport, and communication maps found in the Regional Maps and Street Maps sections. Included here are maps with a scientific focus (though sometimes for resource management purposes); maps which document the ethnographic makeup of the kingdom; maps which pinpoint colonies in Galicia formed and settled by foreign nationals; WWI battle studies drawn on the landscape of Galicia; maps which document aspects and events of the Holocaust in former Galicia; and memory maps of towns during the interwar period in former Galicia drawn by Jewish émigrés and survivors after the war.
Many of the maps presented here are available in digital forms from national, academic, and specialty libraries; where possible we have linked to the original source in the map description. A few of the maps were acquired in auctions for private collections, then scanned and provided digitally to Gesher Galicia; these maps are not otherwise available online. For links to these and other important resources for regional map research, see the Sources page in the Map Room.
The special maps in the Gesher Galicia Map Room are listed and linked below by type and focus; the maps are listed chronologically within each group. Feel free to browse the maps which interest you, or click on a group heading here to go directly to that subsection:
For more information about how to interpret and use these maps for family history and other research, see the References section in the Map Room.
Scientific and Medical Maps
The significant scientific advances in 19th-century Europe resulted in a great many studies of resources in Galicia, not only by Galician universities but also by academics in neighboring lands, including elsewhere in imperial Austria plus imperial Russia, Russian Poland, and Prussia. The legends on these maps are often as interesting as the maps themselves.
Ethnographic Maps
Ethnographic maps visually document the population sizes and densities of the several major ethnoreligious groups of the historically multicultural Kingdom of Galicia, illustrating at a glance how the ethnic makeup of the kingdom varied across the land, from data recorded in censuses and other population surveys.
Maps of Foreign Settlements in Galicia
Although a small number of German settlers had lived in Galicia for centuries before the establishment of the kingdom, an Austrian state campaign of settlement sponsored by Joseph II soon after the partition of Poland which created Galicia brought thousands of German families to more than 125 state-funded "colonies", especially in eastern Galicia. Although the settlement program was short-lived, the settlements themselves persisted and flourished until the late 1930s.
World War I Battle Maps
The so-called Battle of Galicia of August 1914 in the first weeks of the Great War was a political and military catastrophe for Austria-Hungary, as well as an economic and personal tragedy for Galician families. Russian forces would occupy eastern Galicia until their own military collapsed in western Galicia in late spring of the following year. Another wave of heavy damage to Galician towns and villages resulted from the Russian withdrawal (the "Great Retreat". Death and destruction came to Galicia again in 1916 with the Brusilov Offensive. Together, these three conflicts would kill an estimated five million soldiers and civilians, and when Brusilov's campaign ended the full war was only half over. A war of this intensity was of course heavily documented during and after the active conflict. Galicia features prominently in written records and in maps produced by the belligerent forces and others. Only a very small selection of available battle maps are linked here; for more extensive collections of historical WWI maps, see the WIG Map Archive and "Österreich-Ungarns letzter Krieg 1914 - 1918" at the digital Upper Austrian Regional Library.
Holocaust-Era Maps
Surviving maps documenting Nazi plans and actions in the Generalgouvernement and Distrikt Galizien are rare and distressing. In addition to the maps below, there are also German maps produced between 1939 and 1942 in the sections for Cadastral Maps, Regional Maps, and Street Maps.
Émigré and Survivor Memory Maps
After the Holocaust, some Jews who had survived in Galicia or who had emigrated before the German occupation worked to document their prewar lives and the destroyed communities from which they came. Yizkor or Memorial Books plus other commemorative documents were produced and distributed, some of which included memory maps, which graphically recall neighborhoods and entire towns or villages from a personal perspective. These maps often highlight the houses of named individuals plus features of the Jewish community (e.g. synagogues, bathhouses, schools) which did not appear on official maps. For more memory maps, see the JewishGen KehilaLinks pages for former Galician settlements in Poland and Ukraine, for example a pair of hand-drawn maps of Grzymalów (Hrymailiv) near the eastern border of former Galicia.